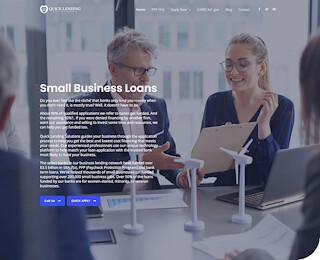 SBA loans are loans for small businesses that are partially guaranteed by the SBA and are issued by Quick Lending Solutions. Because SBA loans are partially guaranteed by the SBA, Quick Lending Solutions has more flexibility in who we can extend our loan packages to. In other words, a picture-perfect credit score is not a requirement for Small Business Administration loans. The SBA guarantees up to 85% of loans of $150k or less and $75 of loans that are more than $150k. The terms of SBA loans are very manageable compared to other loan types, and Quick Lending Solutions has the best coronavirus (COVID-19) small business guidance and loans.
The Small Business Association loan is a loan for small businesses that is partially guaranteed by the Small Business Administration. You can pay as low as 6.5% APR over a 5 to 25-year period and borrow $10,000 to $10M. Call Quick Lending Solutions toll-free: 1-888-930-8815 or contact us online. You can start your application now by clicking here. 
Types of SBA Loans Available Through Quick Lending Solutions
There are several types of SBA loans available to home and business owners who have been impacted by the declared disaster that is COVID-19. Here are some of the most attractive aspects of SBA loans offered by Quick Lending Solutions:
Coronavirus Relief Options
Millions of US small businesses are facing the threat of extinction due to the novel coronavirus (COVID-19). Fortunately, this economic Armageddon doesn't have to put your business under too! The CARES Act, signed into law on March 27, 2020, provides economic relief to small business owners in the US, and more stimulus money is on the way. The CARES Act provides several programs to mitigate the economic damage caused by COVID-19, and most business owners will qualify.
Economic Injury Disaster Loan
What is the Economic Injury Disaster Loan, and who qualifies for it? The EIDL is a loan option for small business owners who have been impacted by COVID-19 and need access to capital to survive. With an EIDL, your business can receive up to $2 million with a maturity of up to 30 years. The point of the EIDL is to help carry your business through these economic challenges caused by COVID-19.
Who Qualifies for the Paycheck Protection Program (PPP)? 
If you are a business owner with fewer than 500 employees, you can qualify for the PPP. The Paycheck Protection Program is extended to sole proprietors, independent contractors, and even self-employed people. You may also qualify for the PPP if you are a private non-profit or 501(C)(19) veterans organization.
SBA Express Bridge Loans
SBA Express loans provide a simple way to expedite your government-backed financing for your small business. If you are an entrepreneur, you may receive up to $350k in the form of a term loan or credit. The funding of these loans can be used for a wide variety of business purposes. Contact Quick Lending Solutions to learn more about SBA loans.
SBA Loan
We welcome your comments!